5 Reasons Why Homeowners Are Opting for Aluminum Gutters
June 17, 2021
Are you due for a gutter replacement but are unsure of which material is best to use? Depending on the climate where you live, the number of trees surrounding your house, and several other important factors, you may choose to install a steel, copper, vinyl, or aluminum gutter system.
Aluminum has become a particularly popular material choice for rain water gutters in the past few years. At Aqua Werx Seamless Gutters, our team works with this sleek, durable material on a regular basis. Here we have provided a list of the top five reasons why we recommend having an aluminum rain water gutter replacement.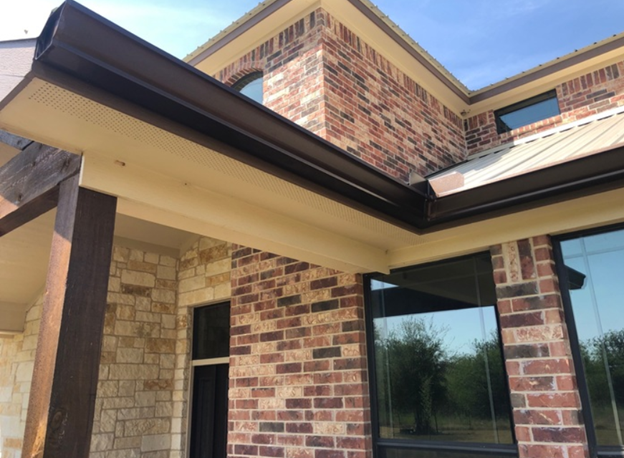 5 Reasons to Install Aluminum Rain Water Gutters
1. Low price
Unlike steel or copper rain water gutters, aluminum offers all the benefits of a metal drain system without the high price point. Homeowners can expect to pay a fraction of the price of other metal gutter systems making it an excellent choice for homeowners on a budget.
2. Low risk of bending
Aluminum rain water gutters are sturdy yet much lighter than gutters made from other materials. This material is unique in that it is strong enough to withstand water and debris, however, it is light enough not to become weighed down over time. Homeowners that opt for aluminum gutters will therefore not have to worry about unsightly bending and sagging over time.
3. Functionality
Aluminum gutters offer a highly efficient drainage system. Where other materials tend to bend and crack over time, disrupting the flow of water, aluminum gutters are highly regarded for their reliability.
4. Minimal pressure on your home
As previously mentioned, aluminum is very light in comparison to other commonly used materials. One of the main benefits of this is that it will not put excess stress on your home after installation. This is a major advantage as many gutter systems cause damage to roofs, piping, and other structural elements.
5. Impressive lifespan
While aluminum is not the most long-lasting material used to make gutters, it is still among the best in terms of longevity. Homeowners should be able to enjoy their aluminum rain water gutter system for as long as 20 years with minimal maintenance or repairs.
If you are looking for a durable, long-lasting gutter system, aluminum may be the perfect option for you! Contact us today to learn more from our team or to request a free quote.