Can You Do Your Own Gutter Installation in Waco, TX?
April 21, 2021
Aqua Werx proudly serves the Waco, TX, area, we offer the best in gutter installation, products, and associated services. We know our business, and we have a lot of satisfied customers to show for it!
Sometimes people on a budget ask us if it's possible to do your own gutter installation in Waco, TX. And the answer is a conditional yes – but be aware, any job that involves climbing up and down on ladders all day is inherently dangerous. Think carefully about safety if you're going to attempt a DIY gutter installation. Also, knowledge and experience does matter, so we always recommend leaving this job to a professional.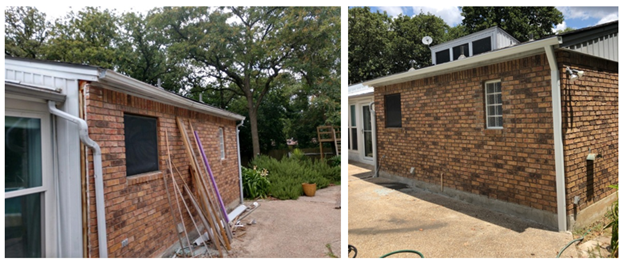 Here are some other things to keep in mind for DIY gutter installation…
Important Tips on DIY Gutter Installation in Waco, TX
Avoid metal strapping
For most residential homes, there's no reason to use metal strapping to hold your gutters in place. Metal strapping is heavier than other options and may place unnecessary strain on the attachment points. Also, metal can more easily damage roof or siding surfaces, particularly if they're also metal.
Stick to softer, lighter materials. As long as you have enough strapping, each individual strap doesn't need to be particularly strong.
Determining how many straps you need
So how much strapping is necessary? As a quick rule of thumb, you'll need about as many straps as you have rafter tails underneath the eaves of your roofing.
However, this doesn't always provide sufficient straps. In general, each strap should be spaced about two feet apart, so that no one strap is holding up too much weight on its own. Plan accordingly.
Seamless versus standard gutters
If you're looking at doing your own gutter installation, you'll probably be purchasing the gutters yourself as well. This means you'll have to cut the gutters to fit your home, and there will be seams or drops between the individual segments.
This will be less effective than using seamless gutters from a specialty shop. Seamless gutters can be custom cut to fit the contours of your home while providing more reliable service.
Make sure to use long screws
When attaching the strapping to your roof, you'll want screws that are longer than usual. The screws are what will really be supporting the gutter's weight, so they need plenty of length and surface area to grab onto. Make them as long as possible, without drilling into the inner wall material.
Get Custom Gutter Installation in Waco, TX
Or, if you want to make the job easier, just call Aqua Werx for affordable gutter installation services in Waco, TX.
Message from the owners: Remember that purchasing a gutter system through Aqua Werx is an investment on your property. Our systems come with a 5 year workmanship warranty and the aluminum material lasts up to 40 years. Avoid the hassle of DIY gutters and think about the longevity of the system that we offer compared to a DIY system. The material and professional installation is a must for the best look and most efficient system.