Common Gutter Installation Mistakes and How to Avoid Them
August 19, 2021
Having a reliable gutter system is essential to the longevity and structural integrity of your home. Depending on the climate in which you live, a high volume of rainfall can cause serious damage to your roof and siding, resulting in expensive replacements or repairs.
In locations near Waco TX, our clients experience rainfall approximately 80 days per year on average. Consequently, homeowners commonly experience complications when they do not have a reliable drainage system in place. To avoid this, smart homeowners seek out trusted gutter installation services in Waco TX and throughout the Central Texas area.
Many homeowners either make the mistake of hiring an unqualified gutter installation technician or doing it themselves without the right information. A successful DIY gutter installation can be done; however, it is important to know what mistakes to look out for.
Aqua Werx is regarded as a leading gutter installation provider in Waco TX. Over the years, our team has seen the consequences of poor DIY gutter installations, and we are here to help you avoid them. Continue reading to learn about the most common gutter installation mistakes we see as a result of poor workmanship and DIY installation mistakes.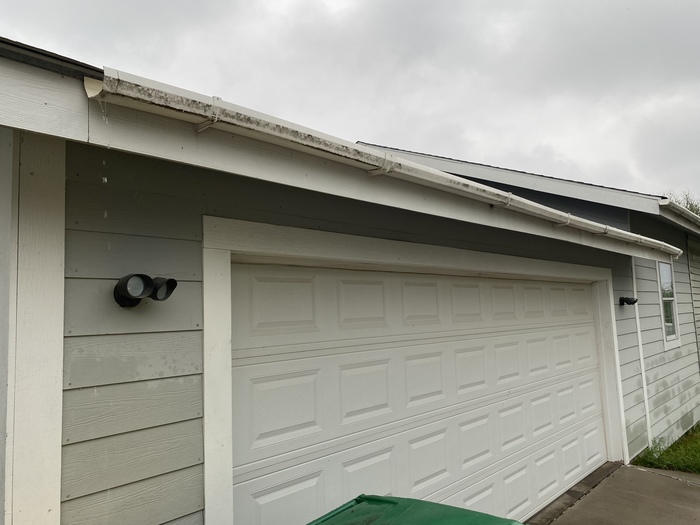 Common DIY Gutter Installation Mistakes
Unsuitable spacing of hangers
The gutter hangers are an important part of any drainage system. As their name implies, these are the metal or plastic hooks which attach the gutters to your eave. If you are new to gutter installation, you may not think about the effect that spacing has on your gutters. Therefore, you may space the hangers arbitrarily or fail to purchase enough of them. Placing your gutter hangers too far apart can result in a sagging trough if the system becomes weighed down by rain or debris.
Once your gutters begin to sag, they are at risk of holding water, leaves, or other debris in these concave areas. In order to support your gutters so that they remain straight and do not sag, we recommend spacing them no more than two feet apart.
Choosing gutters that are too narrow
Many homeowners do not realize that there is more than one gutter size to choose from. At Aqua Werx, we offer our clients the option of either five-inch or six-inch seamless gutters. Knowing the right size for your installation is important. Taking into account the amount of roof water that you will be capturing, to ensure the proper size, is crucial for having an efficient functional gutter system. Many times, the gutter system is undersized for the pitch of your roof.
Poor knowledge of downspouts
Understanding the role of downspouts in a gutter system will dictate the way you position them and how many you decide to use. The number of downspouts you install depends on a few factors. As a general rule of thumb, it is best to install one downspout per 35-45 feet maximum. This usually ensures proper drainage and helps avoid flooding or clogging.
Additionally, it is important to position your downspouts in locations that promote the flow of water away from the building. In more complex cases, you may need to ask a professional about downspout extensions or connecting your downspouts to an underground drainage system to ensure that water does not pool directly outside of the building.
Choosing the wrong materials
Like most home improvement projects, your gutter system requires high-quality materials if you expect it to work at a high level for years to come. The primary areas of concern here are the seams that hold your gutters together. There are many different types of gutters available with varying numbers of seams. As a general rule, the fewer the number of seams, the better.
At Aqua Werx we specialize in high-quality seamless gutters, which remain the top choice for all drainage systems. These types of gutters run the lowest risk of breakage or leaks even under the pressure of heavy rainfall, snow, or leaves. Our seamless gutters are custom built on-site using the expert knowledge of our technicians to ensure you have the perfect size to fit your house.
Failing to consider style
Due to the practical nature of gutters, many homeowners purchase the necessary materials without stopping to consider the effect that they will have on their home's appearance. If your home has a warm, rustic flare, you may want a darker tone to compliment the overall aesthetic. Conversely, if you have a sleek, modern home exterior, a striking metallic hue may be the better option. Our wide selection of seamless gutters at Aqua Werx is available in over 35 different colors to suit the style of any home. If you are not sure which color is best for your home, our team is happy to offer some guidance!
Installing gutters at the wrong angle
The angle at which you install your gutters is perhaps the most important element of a successful gutter installation. The angle also called the "pitch" should allow for water to flow at a fairly rapid rate without overwhelming the system. If water drains from your gutters too quickly, it could wreak havoc on the exterior of your home and your downspouts. Conversely, if your pitch is too flat, water may not drain at all. Standing water in your gutters is a haven for mosquitos, and also can decrease the life of the gutters. The exact specifications are different for every home, and it's not wise to just attach gutters on a house without proper knowledge and expertise.
Contact Us for Gutter Installation in Waco TX
Are you thinking about adding gutters to your home or replacing your current gutter system in Waco TX? Our team at Aqua Werx is here to help! Contact us today to learn more about our top-rated services available throughout Central Texas from South of Dallas / Fort Worth to North of Austin.