Do I Really Need Gutters for My Home?
July 6, 2021
Do I Really Need Gutters for My Home?
As a homeowner, you might have wondered at one point or another whether gutters are truly necessary for your home, especially if you have to clean them year after year. The short answer is that all that gutter maintenance and cleaning is a necessary evil; they're an extremely important part of your home. However, as one of the leading providers of gutters in Texas, the team from Aqua Werx can minimize the amount of maintenance you need to perform each year.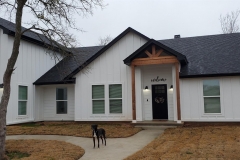 Here are a few of the reasons why your home needs gutters, as well as some of the benefits a quality gutter system can provide.
Understanding How Rain Gutters Work
It's no secret that the basic function of gutters is to redirect water off your roof and away from your home. However, they're really designed to prevent erosion from around the foundation of your home and other issues, like cracks and leaks. Although gutters can efficiently remove large volumes of water at a time, it is possible that they can still overflow on occasion in harder rainstorms. Especially if the right size gutter for your home is not used. They're often made of a material like PVC, copper, or aluminum.
How Do Gutters Work?
Basically, gutters catch rainwater as it runs off your roof then channels it through downspouts, which then deposit the water away from your home. This greatly reduces the risk of basement flooding (for those rare homes in Texas with basements), prevents erosion around your home, and decreases the chance of costly foundation damage. Those who want to collect rainwater often have this water deposited into a rain barrel for use during dryer weather.
When & Why Are They Necessary?
As mentioned above, you'd be hard-pressed to find a modern home today without a gutter system. However, there are certain situations that make having quality gutters installed an absolute must, which includes:
When the Surrounding Landscape Slopes Upwards:
If your home rests at the bottom of a slope on at least one side, water will pool along its foundation both below and above ground. However, gutters can be used to direct the water safely away to a downward sloping side. These are often installed on both the roof, as well as the ground.
When There's Red Clay:
If you live in an area that is rich in red clay, it poses problems that only gutters can solve. This is because heavier rains will also carve out pipelines in the clay underground where water will travel to your foundation. However, using an underground drain or gutter extensions can help reduce the chances of foundation damage.
Common Gutter Issues to Look Out For
Before you go, we also wanted to touch on a few of the most common gutter and roofing issues to look out for and some solutions to keep yours working properly.
Ice Dams
One common gutter and roofing misconception is that gutters create ice dams during the winter. However, this isn't true. It's actually your attic or crawl space that can cause ice dams and is a ventilation or insulation issue. Unfortunately, ice dams can lead to serious roofing problems and structural damage so contacting a professional at the first sign of trouble is a must. REMOVE THIS Not pertinent to Texas
Gutter Clogs
The most common issue homeowners have is when it comes to gutter clogs. However, with the right gutters and a cleaning and maintenance program, this issue can be easily avoided. Additionally, leaf guards and gutter covers are another way to avoid seasonal clogs. Leaf guards will still allow in some debris, but that will be easily flushed through your gutters and away from your home each time it rains.
Leaf guards and gutter covers also help prevent birds from building nests in your gutters and other critters and pests from making their home there. You'd be surprised at how many animals and bugs can find their way into your gutters if they're not covered properly.
Poor Function of the System
Sometimes you may find that you have gutters, but they do not seem to be properly handling the water during rain storms or that some areas of the gutter system are working better than others. This could be due to poor drainage/flow of the system, improper size of the gutter, or need for more downspouts to efficiently disperse the water. These are issues that the Aqua Werx team can assess to determine what can be done to ensure proper function of your gutter system.
Contact us today for more about Texas gutter installation!
Do you want to protect your foundation while also minimizing costly gutter clogs? If so, then the team from Aqua Werx would love to hear from you. In addition to our 6 in. and 5 in. seamless gutters, we also offer leaf guard installation and cleaning services, rainwater harvesting solutions, and more.
For those living in a flood-prone area in Texas, Aqua Werx can provide a variety of flooding solutions to protect your household including adjusting the grade away from your home, attaching underground drains to your gutter downspouts, installing a French drain system (remove, we do not do French Drains), as well as implementing drains for your yard, rainwater harvesting components, and more.
As a family-owned and operated small business, we take pride in all the work that we do. Aqua Werx is committed to offering quality customer services throughout Waco and Central Texas and some of today's leading gutter systems available.
For more about our services, contact us today online or call (254) 855-6678.