Seamless vs. Sectional Gutters: Which is Right for You?
April 27, 2021
Installing a reliable gutter system is an essential part of managing your property and can result in detrimental damage if not done correctly and with the right gutters. The last thing any homeowner wants to deal with is a flooded basement, a damaged roof, or unsightly stains on the outside of their home.
Depending on a few factors such as the local climate and the shape of your roof, your home may require a specific type of rain gutter system. Unfortunately, many homeowners fail to choose the right option simply because they do not know the differences between sectional and seamless gutters.
If you are planning to install rain gutters in the near future, ensure you have all the information you need to make the best decision. Continue reading to learn more about the differences between seamless and sectional gutters from our rain gutter installation specialists at Aqua Werx, serving all of the Greater Central Texas area.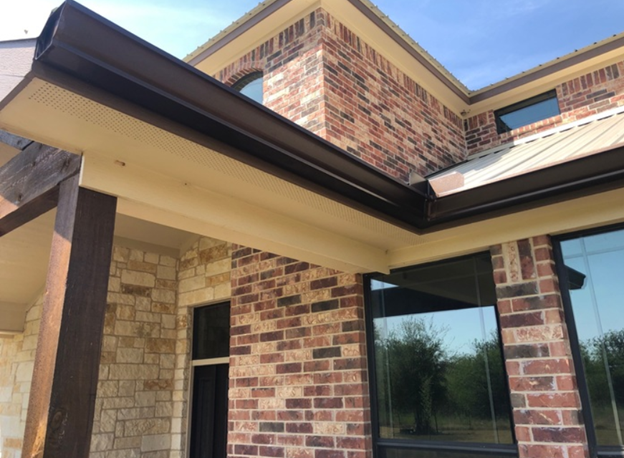 Key Differences Between Sectional & Seamless Gutters
Installation process
Sectional and seamless rain gutters are installed using two very different techniques. Sectional gutters can be transported to your property in pieces, where a professional will then hook the structure onto the edge of the roof and seal the pieces together using a strong adhesive.
Conversely, seamless gutters require a more modern installation technique that must be completed by a technician using professional equipment. The reason for this is that seamless gutters are formed on-site using a portable machine and produced according to the building's specific measurements. The rain gutter is therefore created in one large piece without any seams. At Aqua Werx, we offer custom seamless rain gutters in 35 different colors.
Durability
If you live in a climate with a large amount of rainfall, it is important to have a rain gutter system that can withstand the local weather conditions. Seamless gutters have much less potential to break under pressure as they are built in one continuous piece, as opposed to sectional rain gutters which have many areas of weakness at their points of attachment. Additionally, seamless gutters are constructed using a metal material as you can see in our online portfolio, whereas sectional gutters are traditionally built using a much weaker material such as plastic or vinyl.
If your rain gutter system is not strong enough to withstand the local climate, you may find yourself paying for costly repairs during the rainy season. Thankfully, even if you do not own a seamless gutter system, there are a few ways that you can prevent flooding and leaks using our professional services. We offer underground drains, rainwater harvesting, rain barrels, and more.
Total costs
Even though seamless gutters require customization and modern installation techniques, the total cost of these systems does not surpass that of sectional gutters. Seamless gutters allow for less time and labor due to their singular form. Once the gutter is created on-site, a professional can simply attach it in one piece.
Sectional gutters offer more variance in cost as homeowners have the freedom to install the system themselves or call a professional for assistance. However, regardless of installation, sectional gutters are far more susceptible to damage which means they will require more maintenance than the average seamless gutter. For example, you may require more frequent gutter cleaning services with this option as leaves and other debris could weigh down the system, causing breakage.
Aqua Werx gutter specifications
When seamless gutters were first introduced, they were strictly created using a width of 5″. In recent years, however, there has been an increase in demand for wider rain gutter systems that can hold more water without flooding. Aqua Werx offers homeowners in Waco, Texas the unique opportunity to choose from two seamless gutter sizing options. Depending on your needs, we can create a custom-length gutter in either 5" or 6" width measurements.
As previously mentioned, we can also customize the color of your seamless gutter according to your preference. Most of our clients choose a color that matches the roof or facade of their home. However, if you wish to add an interesting architectural element to your home, you may want to incorporate an additional color. If you are unsure of which color may be best suited to your home, take a look at some of our previous work in our online portfolio.
The Aqua Werx Guarantee
What sets Aqua Werx apart from large-scale gutter installation companies in Texas is our dedication to our work. We are a small, family-owned, and operated business and we pride ourselves on offering friendly service and ensuring all of our clients are happy with their results.
For those in need of gutter installation, we not only serve all of the Waco but also go all the way north of Austin to cities like Georgetown, Round Rock, Leander, Cedar Park and more. So, if you're unsure of whether we service your area, take a look at our service map on our about us page.
If you're in the market for a custom gutter or flood prevention system? Contact us today to learn more about our services.